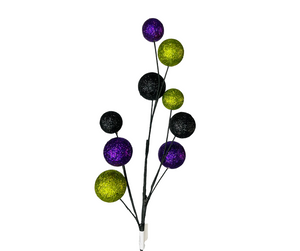 Enhance your decorations with a burst of vibrant colors using our 21" Glitter Ball Spray. This eye-catching spray features sparkling lime green, black, and purple glitter balls that add a touch of glamour to any setting. With its 21-inch length and sturdy stem, it's effortless to incorporate into floral arrangements, wreaths, and other decorative displays.
Product Information:
Size: 21 inches in length
Design: Glitter ball spray with vibrant lime green, black, and purple colors
Features: Shimmering glitter accents, sturdy stem for easy placement
Contact Us: If you have any questions or need assistance, our dedicated customer support team is available to help. Please feel free to reach out to us for any inquiries or concerns.
Shipping: We provide reliable shipping options to ensure the safe and timely delivery of your Glitter Ball Spray. Shipping details, including estimated delivery times, can be found during the checkout process.