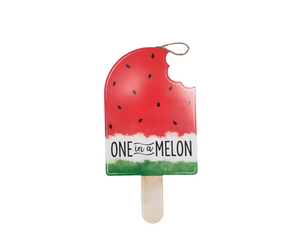 Celebrate the sweet flavors of summer with our MDF Watermelon Popsicle Sign. Measuring 13.5" in height and 7" in length, this sign features a vibrant watermelon popsicle design, perfect for adding a refreshing touch to your home decor. 
Product Information:
Dimensions: 13.5" in height, 7" in length
Material: MDF (Medium Density Fiberboard)
Design: Watermelon popsicle sign
Contact Us: If you have any questions or require further assistance, our dedicated customer support team is here to provide help and guidance. Feel free to reach out to us.
Shipping: We offer fast and reliable shipping options to ensure that your MDF Watermelon Popsicle Sign arrives promptly and in perfect condition. Please refer to the estimated delivery times during checkout.