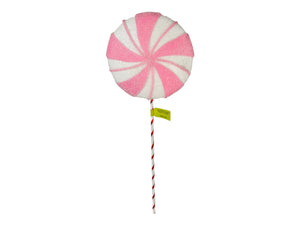 Add a dash of sweetness to your holiday decor with our 21"x6" Peppermint Lollipop Spray in White & Pink. Whether you're a festive enthusiast or a home decorator, this delightful spray is the perfect addition to your collection.

🍭 Key Features 🍭

Size: 21 inches x 6 inches
Adorable peppermint lollipop design
Ideal for wreaths, centerpieces, and mantel decor

Disclaimer: Please note that slight variations in color may occur due to different monitor settings.