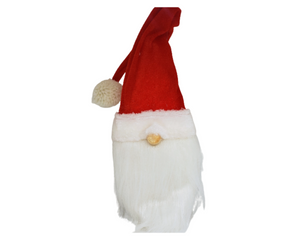 Add a touch of whimsy to your holiday decor with our Velvet/Foam Gnome Head. Standing at an impressive 25 inches tall, this charming gnome head features a soft velvet exterior and a foam interior.
Product Information:
Height: 25 inches
Width: 5.5 inches
Material: Velvet and Foam
Design: Gnome Head
Contact Us: For any questions or assistance, our dedicated customer support team is here to help. Feel free to reach out to us, and we'll be happy to assist you.
Shipping: We offer reliable shipping options to ensure that your Velvet/Foam Gnome Head arrives safely and promptly. Shipping details and estimated delivery times can be found during the checkout process.