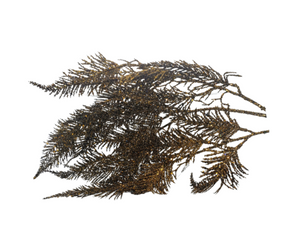 Enhance your holiday decorations with our stunning 37"L Lace Fir Spray. This exquisite spray features delicate lace-like foliage in a captivating blend of copper and black, adding a touch of elegance and sophistication to your Christmas arrangements, wreaths, and centerpieces. The long stem allows for versatile placement, and the intricate lace design brings a unique and eye-catching element to your festive decor.
Product Information:
37"L Lace Fir Spray
Features lace-like foliage in copper and black
Enhances Christmas arrangements, wreaths, and centerpieces
Long stem for flexible positioning
Adds elegance, charm, and texture to holiday decor
Contact Us: Our dedicated customer support team is available to assist you with any inquiries or concerns. Please don't hesitate to reach out to us, and we'll be delighted to help.
Shipping: We provide reliable and timely shipping options to ensure the prompt delivery of your 37"L Lace Fir Spray. Simply select your preferred shipping method at checkout for a seamless shopping experience.
Disclaimer: Please note that the actual product color may vary slightly due to variations in monitor settings and lighting conditions.
**PLEASE NOTE-Stem may be folded over for shipping. If you require the stem to not be folded, please advise. Additional shipping my incur.